The Creature Conservancy
Where in Ann Arbor, MI can you see an Arctic Fox, a Reindeer and an albino Alligator?  The Creature Conservancy !
Warm sun on our faces, Alex and I entered and were immediately intrigued by the black swans floating gracefully in the pond directly in front of us.  In the distance to the right side of the pond, Emus wandered down to the waters edge to get a drink.  A gentle breeze created tiny ripples in the water, prompting me to take a deep relaxing breath.
Slowly walking to the right, Alex and I headed toward the main building.  Immediately upon entering, we met Luna the albino Alligator.  We watched Luna for quite some time, swimming back and forth in her enclosure.  It never occurred to me that Alligators could be albino, or what they would look like – Luna is beautiful!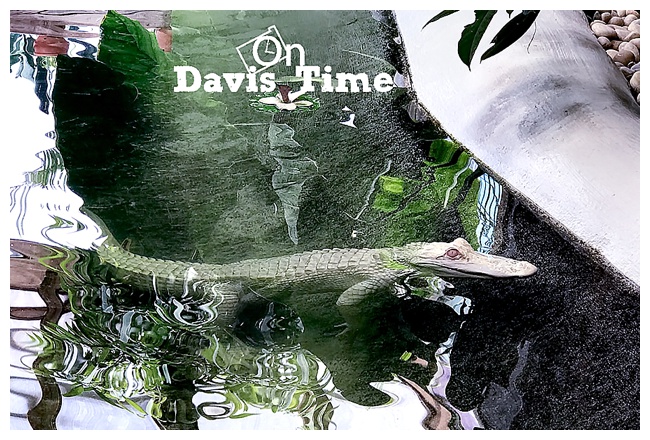 After visiting Luna, we saw countless turtles and snakes.  As we wandered, a playful and talkative raven named Poe caught our attention.  Poe loved to bob his head, and say his name – "Poe Poe!, Poe Poe!".   We saw a sloth, muntjac deer, crested porcupines, an armadillo, barnyard animals and more.
Animal Presentations
Sven the Reindeer was the featured animal the day that Alex and I visited, and we entered the center room of the main building to watch Sven on the stone stage.  Sven proudly shook his antlers, and strutted the length of the barrier to show everyone just how beautiful he is.
Other presentations included cougar feeding, alligator feeding, and cougar play time.

Hands On
The best part of the visit, was how many opportunities there were for hands on, interactive moments with the animals.  Everything was very up close and personal, and in many cases you could touch the animals.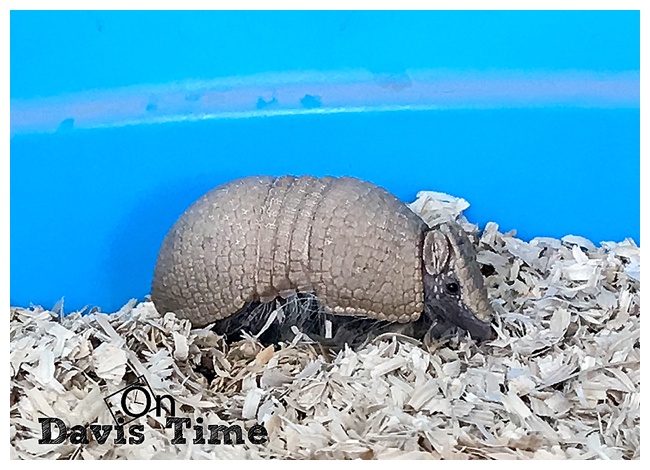 The entire location – indoors and out – had the relaxed, homey feeling of a farm, and people who work there are clearly passionate about what they do.  The animal handlers were friendly, outgoing and eager to talk about the animals they care for.  Alex and I were only there for a couple of hours, but we learned so much on our visit and walked away with a greater appreciation of the creatures that we share this planet with (and the people who advocate for them).
If you're looking for a relaxing, low key outing with your kids in the Ann Arbor area, the Creature Conservancy is the perfect place to spend a couple of hours.
The Creature Conservancy is a 501(c)(3) non-profit organization that takes in injured, non-releasable wildlife and occasionally acquires individual animal ambassadors to meet their teaching goals.  To learn more about The Creature Conservancy, visit their Website.
=-=-=-=-=-=-=-=-=-=-=-=-=-=-=-=-=-=-=-=-=-=-=-=-=-=-=-=-
Tressie Davis is a portrait photographer located in Chelsea, MI. Portrait work may be viewed at www.tressiedavis.com.