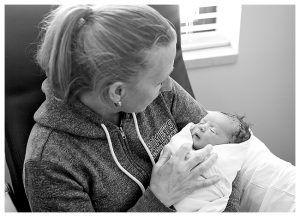 The antiseptic smell of the hospital.  The hours of waiting.  The decisive moment, when it is "time" for Aubrey's birth.
Everything so similar, and yet at the same time…so different.
It's hard to explain the mix of emotions surrounding the birth of my second grandchild.  Thoughts of the beautiful boy Landon who we held for such a short time but were not able to bring home, the excitement of a little girl this time, anxiety and fear, overwhelming happiness and a small bit of guilt for that happiness.  Wondering how your heart can possibly be big enough to fit all of the love for your children, and now grandchildren.
Dark hair, sweet fine features and a healthy wail.  Aubrey is born.
And just like how your heart grows exponentially each time you have a child, so it does with the arrival of each grandchild.  Our hearts are full.
Tressie Davis is a portrait photographer located in Chelsea, MI. Portrait work may be viewed at www.tressiedavis.com.