A Great Family Escape requires a survival vest
"What is this?"
"Tools.  You will need them."
*searches survival vest.  finds flash light, string with magnet and other random items*
"Mom, I don't want to go."
"you'll be fine"
"please, mom"
*grabs kid by the hand and drags her into a dark, post-apocalyptic kitchen….*
This was the beginning of the excitement at Escape Experience Chattanooga, our second escape experience as a family, and unknown to us the most intense of the three we would participate in on our Michigan to Chattanooga road trip.
Discovering  a new passion for solving puzzles as a family
We excitedly sought out a second Escape Experience after having participated in our first at Escape the Room Challenge in West Chester, Ohio where we stopped for a break on our road trip to Tennessee.
Esmerelda's Curse introduced us to how much fun it could be to solve an incredibly realistic mystery as a family.  Being locked in a room, finding clues, solving puzzles as we were surprised and fascinated by the intricate realism of the way the mystery was presented, as well as the problem solving skills and teamwork necessary for escape.  Alex was not a fan of the ghostly figure that appeared in the mirror, or of the stressful build up and frantic activity as we ran out of time, resulting in a deadly gas being released into the parlor and our souls being cursed forever… or at least that is the story. Of course the reality is we were let out of the room and forced to have our photo taken as "losers" because we did not escape in the allotted hour.
Losers or not, it did awaken a passion for experiencing escape rooms as a family, and after arriving in Chattanooga we immediately looked for another one and Vaccine, Search for the Cure at Escape Experience Chattanooga seemed like a good bet.

Locked in the Dark
"Wait, it's dark in here.  They haven't closed the door yet, we can still leave!"
*click of door closing*
"……"
"flip the light switch"
"I did, it doesn't work"
"Wait…you mean our first challenge is how to get the lights on?!"
"I guess that's what the flashlights are for…"
While Esmerelda's Curse was low key and family friendly for all ages, Vaccine proved to be a little intense for my youngest two (8 and 10 at the time).  But it was intense in an amazing, "you are completely immersed in the story" kind of way.  A little scary for the littles, but certainly not traumatizing (uh…but maybe don't ask Alex to talk about it….)
"I think we're supposed to go through there"
"I'm not doing it"
*3 out of 5 family members go through*
"Your turn Alex"
"No, I'm not doing it"
"Just GO"
"NO"
"Fine.  Then I will go and you will be left here alone"
"…."
*Alex scurries through*
You never know what will be a clue, a tool, or the answer
Searching for objects and clues, using logic and math, and physically manipulating your surroundings to literally open new possibilities to move forward in your quest, you make your way through the story to find your way to the ultimate and final clues to make your escape.  (or find the vaccine to save the human race)
"oh no, are you serious right now?"
"just take it out and use it"
"arghhhhhh"
*eyes closed*
"here goes nothin"
"crap, look at the time"
"noooooooooooooo"
We lost again.
BUT. IT. WAS. AWESOME.
You do receive closure, even after losing, as the organizers will come into the room and show you what was left to discover and how to solve the remaining puzzles (which ultimately will help you in future Escape games)

One more for the road home
We had so much fun the second go around that we hit Escape the Room Challenge in West Chester, OH again on the way back to Michigan.  This time to Escape the Mob.  We lost again.  Clearly you don't have to be good at this for it to be fun.  In our defense we were locked in as a family of 5 – two adults and kids 13, 10 and 8 – this is our excuse for losing and we are sticking to it.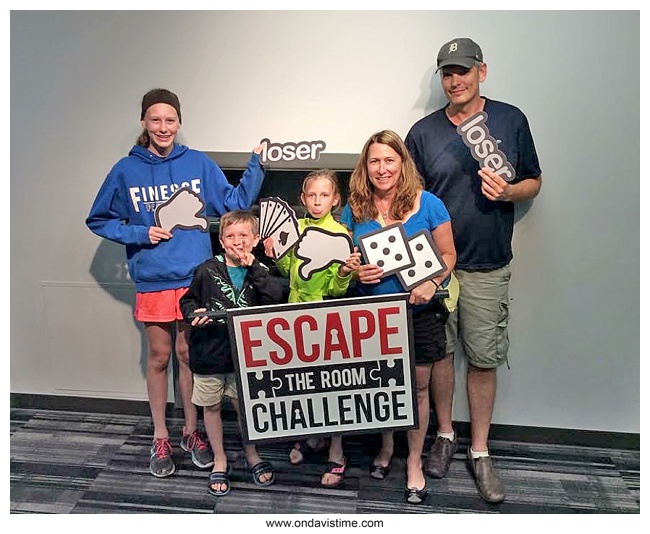 Interested in Escape Rooms?
Most Escape rooms are made for groups somewhere between 8-12 people.   There are varying levels of difficulty, and some are more child friendly in their theme than others (as we learned with Vaccine).   They are an amazing family bonding and adventure activity, and would also be a ton of fun for a group of friends or as an exercise in working together for teams (office or sport!).
In hearing from others who have attended escape experiences, I understand that there may be a great variance in the quality of the escape – anywhere from the low end "a series of puzzles in boxes" to the full immersive experiences that we had on our trip.  Unfortunately, you cannot always tell by price, so be sure to check reviews or use word of mouth to find the best options.
To find options in your area, your vacation destination or along your route, check out the Escape Room Directory which contains links to Escape Rooms all over the world!
=-=-=-=-=-=-=-=-=-=-=-=-=-=-=-=-=-=-=-=-=-=-=-=-=-=-=-=-
Tressie Davis is a portrait photographer located in Chelsea, MI. Portrait work may be viewed at www.tressiedavis.com.