On our Disney Cruise vacation, they announced that we would be arriving in Tortola (BVI) near sunrise, and the view of the ship pulling into port would be worth getting up for.  I was the only one in my family interested (no surprise there).
Walking around on the upper deck with a handful of other passengers at shortly after 6am, I looked over the front of the ship as we approached the islands.  The view was pretty, but not spectacular, mostly because the beautiful sunrise was behind the ship.  The "approaching" shot I had envisioned was not there.

Growing bored, I turned and walked toward the back of the ship, and noticed immediately a better view was behind us.  Adjusting my camera settings for the more intense light and stunning color, my next shots evoke an entirely different feeling and memory of that morning – and my images do not do it justice.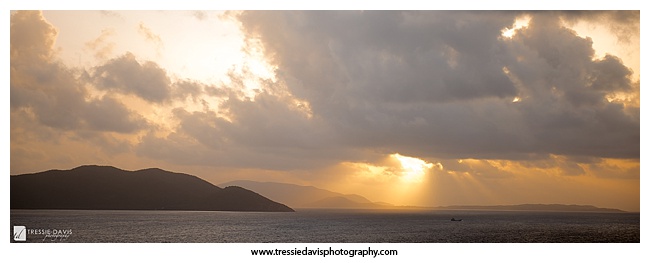 Once the sun rose high enough in the sky, I again moved toward the front of the ship to catch our final approach to Tortola.  Was it worth getting up for?  Absolutely – a beautiful beginning to the day.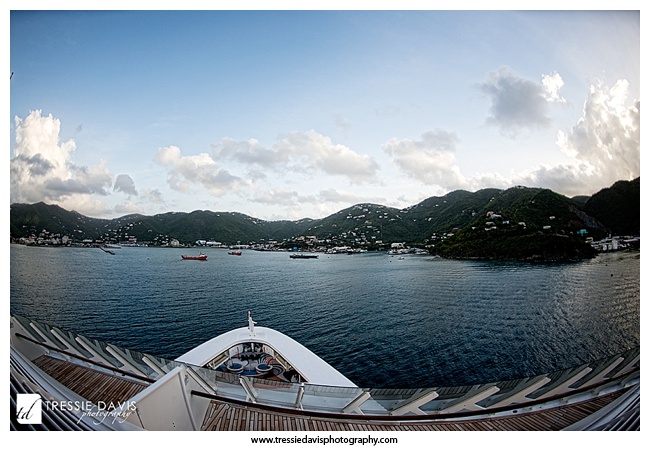 These three very different images were taken in the span of 30 minutes or so.  Lesson learned – sometimes it's a good idea to look back…before facing forward once again.
=-=-=-=-=-=-=-=-=-=-=-=-=-=-=-=-=-=-=-=-=-=-=-=-=-=-=-=-
Tressie Davis is a portrait photographer located in Chelsea, MI. Portrait work may be viewed at www.tressiedavis.com.