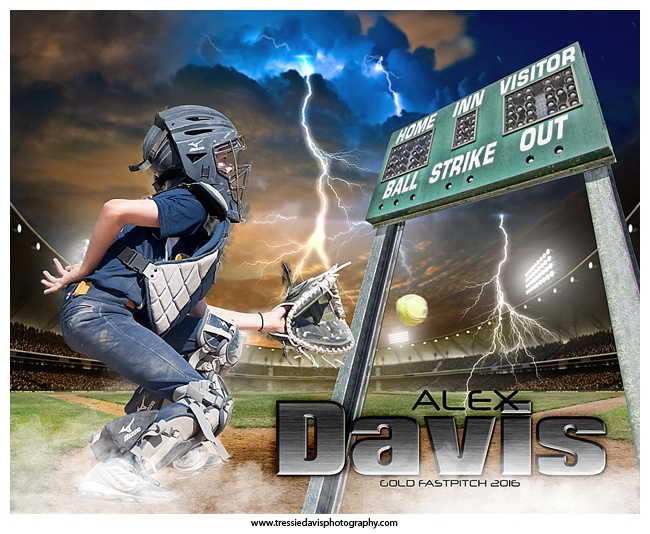 "She's a Home Run hitter and you're never gonna get her so give up! *clap clap*"
How do you encapsulate all of the stand out memories into an end of season gift to commemorate a great season?  This year the idea was to create a very special sports image composite of each athlete, and include heartfelt words from the coaches celebrating the athletes as individuals. (Nickname, what they are famous for, what they are infamous for, and coaches comments.)  Images were displayed on the top 8 inches of a 10×13 print, with the text below.
Ceremoniously presenting the images to each child on the team at the final practice of the season, the coaches spoke of accomplishments and FUN.  The reactions of the players made my heart happy.  I very much enjoyed watching the faces of each athlete as they saw their best selves in the words and images.
The coaches were in on the gifts for the girls of course, as they had to provide the words.  But I couldn't resist creating one more composite for the coaches.  In this print, the bottom half was printed black for the players to sign their name and uniform number with a silver sharpie.  I hope this small token shows the coaches just how much they are appreciated!
The words on the gifts are not mine to share but now that the prints have been delivered to the team, I am proud to show you the composite images below.
** All composites created with templates purchased from Ashe Design **
=-=-=-=-=-=-=-=-=-=-=-=-=-=-=-=-=-=-=-=-=-=-=-=-=-=-=-=-
Tressie Davis is a portrait photographer located in Chelsea, MI. Portrait work may be viewed at www.tressiedavis.com.