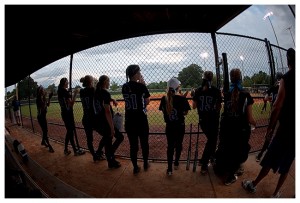 You've seen the ranting articles.  The ones railing against the cost of youth sports, the toll they take on family time, the debates about whether a single sport should be year round and the arguments to support multi-sport kids.  Then there are the articles about the parents.  You know, those crazy sports parents.  The ones that drive an hour and a half away 2-3 times a week for practice, that incessantly badger their kids to get in that mystical 10,000 hours, for perfection.  Not to mention the ones that are truly crazy, and apt to be removed from the rink/field/court.
Don't get me wrong – when your child is on a winning team, it's exciting, and FUN. If your child is an integral part of said winning team, it's positively intoxicating.
The articles argue the extremes.  I may be considered one of those crazy sports parents, but when your child loves the game, how can you help but get wrapped up??
All of that said however, our family has never lost sight of all of the far more important things gained from participating in youth sports – the lessons, the sportsmanship, the responsibility and teamwork, but most of all, the pure JOY it brings your child.  (If it doesn't bring your child joy, please rethink your motives)
So for now just forget about the extremes, and take a look at what I think youth sports should look like.
See those happy faces?  THIS is what it's all about.
=-=-=-=-=-=-=-=-=-=-=-=-=-=-=-=-=-=-=-=-=-=-=-=-=-=-=-=-
Tressie Davis is a portrait photographer located in Chelsea, MI. Portrait work may be viewed at www.tressiedavis.com.