ROBIN RAYMOND – Teacher, Coach, Friend.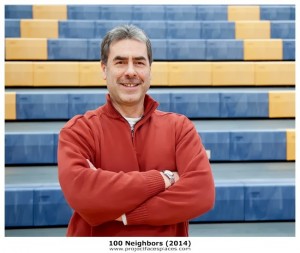 Did you know that in Robin's Junior and Senior year at Ypsilanti High School he had the opportunity to play on two undefeated regular season basketball teams?  (Unfortunately they were defeated both years in the State Championship game by the same team, Grand Rapids Ottawa Hills.)  Robin attended Hillsdale College on a basketball scholarship for one year, then transferred to EMU to continue schooling without playing basketball.  He was a summer baseball coach during college, and was a volunteer assistant at Ypsilanti High as a senior at EMU.

Robin kept his passion for sports and education, moving to Chelsea in 1978, accepting the Head Basketball Coaching position and a Mathematics teacher position.  He left in the late 80's to go into business, and then returned to Chelsea a short time later as Head Coach and Assistant Principal.

In his total of 31 years of coaching, Robin saw his teams win several district championships, two regional championships, and advanced to the final 8 in the state on two occasions.  Impressive and noteworthy, yet Robin will tell you that some of the proudest, most memorable achievements over his career have been the associations he has made with students and athletes, watching them become positive, contributing members of the adult world. 

Most recently, Robin is helping to coach the women's Varsity Basketball Team at Chelsea High School.  He also coaches a seventh grade travel boys team, and in the spring/summer he is involved with coaching a Washtenaw County girls sophomore AAU team.  Robin states, "I continue to love working with the young people of our community and plan to be involved with the educational and sports areas for many more years".  With two young daughters that LOVE basketball, I'm pretty happy to hear that…

A great role model and Chelsea Icon?  Yes, Chelsea is lucky to have Robin.

=-=-=-=-=-=-=-=-=-=-=-=-=-=-=-=-=-=-=-=-=-=-=-=-=-=-=-=-
Tressie Davis is a portrait photographer located in Chelsea, MI. Portrait work may be viewed at www.tressiedavis.com.