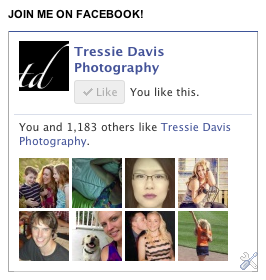 How to Add a Facebook Fan Page to your Blog
These instructions assume that you already have a Facebook Business/Fan Page.  If not, you will need to create one first.  Also, while I have used Blogger as the example, the instructions should work on other blog platforms as well.


1. Sign in to Facebook and go to your Fanpage
2. Leave your Fanpage up, and open a new browser tab.  Go to https://developers.facebook.com/docs/reference/plugins/like-box/ and you will see the parameters available for modification of the "Like Box".  There are multiple combinations to make your "like box" match/fit your blog – I am going to show you what worked for me.
3. Copy your Fanpage URL from your first browser window, and paste it into the field for Facebook Page URL (removing the developer URL)
4. The width defaults to 292 pixels which is the smallest supported size – however that width would overlap my sidebar so I took my chances and resized it to 250 pixels.  If your sidebar is larger than mine, you may want to leave it as is, or increase the size.
5. I left height blank, and color scheme light (to match my blog)
6. Under the checkboxes, I unchecked "Show Stream" because I thought it made my sidebar messy – if you have more open space in your sidebar and a very active Facebook page you may want to leave that checked.  As you work, Facebook will give you an example of what your Like Box will look like when finished.
7. When the box looks the way you wish, then click the "Get Code" Button.
8. You will see the HTML for your plug in code.  There are four options at the top – HTML5, XFBML, IFRAME and URL.  Select IFRAME.
9. Select and copy the code.
10. Go to your Blogger Layout and Add a Gadget/Widget, then select HTML/JavaScript
11. In the Configure HTML/JavaScript window, enter a title (Join me on Facebook!) and then paste the copied code into the content box.
12. Save
13. Move your gadget to where you want it on your layout (if necessary) then Save Arrangement.
14. View your blog to see your new Facebook Box!
Tressie Davis is a portrait photographer located in Chelsea, MI. Portrait work may be viewed at www.tressiedavis.com.