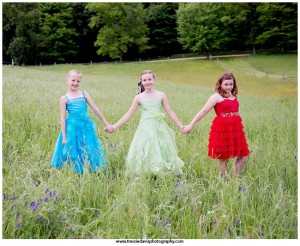 So very often I am asked where did I shoot an image, how did I shoot it, what made me think to try a specific location or pose, etc.  I am also very often told by clients "I don't think there are any good backgrounds there" (in their home/yard/city/whatever).  Nonsense.
Most recently I shot portraits on a farm.  Now I realize that by most anyone's terms a farm is a beautiful place to shoot – tall grasses, barns, and fences everywhere.  We definitely took the standard shots – but we also got creative with perspective, a shed and the barn doorway.
Since we had a little cloud cover when we arrived, I decided to shoot in the grass first – I was afraid that if we lost the clouds, the sun would be too harsh to shoot in the field later.  Tall grass is a personal favorite of mine wherever it is.  When I shoot in grass, I like to get low and shoot with a relatively large aperture, to get the grass blurry in the foreground.  The kids were troopers, laying down and rolling around…or whatever.  I got down in the grass with them, to get the grass and wild flowers in the picture.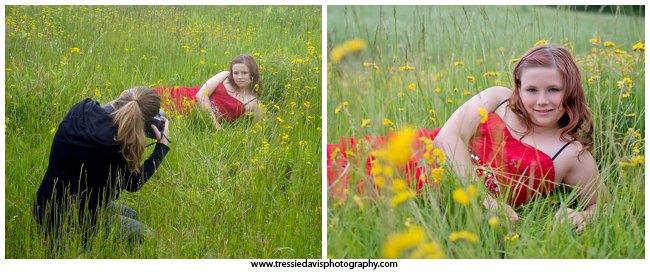 With Robby, I wanted to get some sky in the image, so I got down even lower…look at that smile! (He was looking at Kathy, and boy is she funny looking)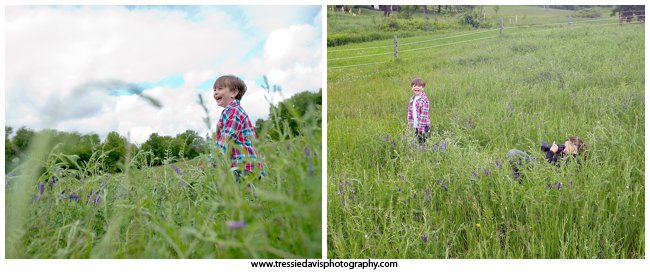 Then all of a sudden, Kathy wasn't funny anymore and Robby decided to pout.  The best thing to do is roll with it.  Your subjects do not always have to be smiling! (or even looking at you for that matter)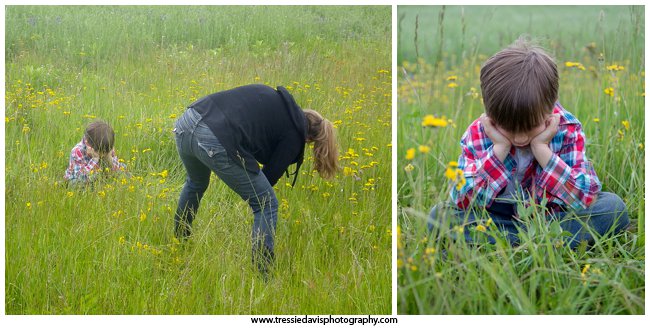 With the sun getting stronger in the sky (and the pouting getting ominous), we moved out of the field and into the barn area.  Barn doorways are perfect for open shade – a trick for natural/available light portraits on a day when the sun may be too harsh.  And a deep, dark barn also provides the perfect situation for a fake "black backdrop".  To get this effect, place your subject in the open shade of the doorway, and expose for the subjects face allowing the background to go completely dark.  There are more foolproof techniques involving off camera flash, but on this day I chose to work with natural light, and use photoshop after the fact to burn any light spots remaining in the background.  (mainly because I didn't have my lights with me LOL)
Here are a few more images shot in the barn doorway…

With my "go to" tricks out of the way, I looked around to see what else was there and saw some great lines on the side of the shed.  I love lines 🙂  A few shots from the side (using the lines to lead your eye to the subject), then I ended up on the ground shooting Robby again, ha!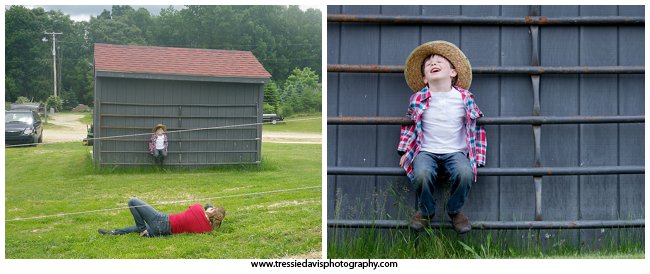 Lines are everywhere if you look (and they don't have to be straight)!  In the below images I used the driveway.

No matter where you are, a good rule is to get on the level of your subject – even if that means lying down in a pig sty.  Oh yes I did.

But also don't be afraid to mix it up.  Walk around your subject.  Shoot straight on, shoot up, shoot down – experiment to see what works!

RECIPE
Ingredients: party dresses, cowboy boots, denim, and plaid.  Since this shoot was scheduled with less than a week for planning and I had never seen the location where we would shoot, there wasn't a whole lot of forethought into a final vision.  I gathered up everything "country" I could think of, and figured I'd play it by ear once I saw where we would work.
Location: Farm
Equipment:  Nikon D800, 24-70mm lens primarily (sometimes 70-200).  All natural light, no flash.
PhotoTips:  
You do not need a large expanse of beauty for a shoot, you really only need a few feet of nice background and that can be found almost anywhere.  Some of the places I have shot my best photos are kind of funny – under a clients deck, on a stairwell, next to 4 feet of fence, or a small patch of tall grass.
Don't be afraid to play in the dirt or roll around in the grass.  Lying down is a great way to get foreground interest in your shot, and a cool perspective.
Things do not always go as planned.  If the kid pouts, roll with it.  Your subjects do not always have to be smiling!!
Look for lines.  You can't go wrong with lines.
For variety in the same spot – shoot up, shoot down, do full body, 3/4, close up and extreme close up.  Walk around your subject as they stay still.
Things I learned:
If a horse doesn't want to move, you can't make him (but apples help)
If someone's kid is going to pout, it will probably be mine.
Baby pigs bite.  And I'm pretty sure they communicate about how to surround a photographer to attack from all sides at the same time.  (note to self: don't sit down in any more pig pens)
Pigs like you while you are sitting down, but if you stand up they will run.
Til next time….
=-=-=-=-=-=-=-=-=-=-=-=-=-=-=-=-=-=-=-=-=-=-=-=-=-=-=-=-
Tressie Davis is a portrait photographer located in Chelsea, MI. Portrait work may be viewed at www.tressiedavis.com.