Since Facebook has a cool (or not) habit of changing things constantly, sometimes it can be hard to keep up with how to customize certain parts of your page.
Recently I wondered if I could still add custom "tabs" on my Facebook business page the way I used to.  It turns out that the functionality is still there, and your custom tabs will be in the small boxes under your Cover Photo.  By default most people will see Photos, Videos, Number of Likes.  I added a custom tab and updated my Facebook page so that people will see Photos, PFP The Blog, Likes and Videos.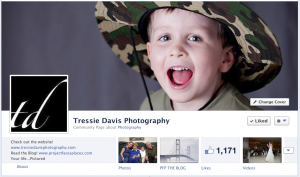 If you would like instructions on how to do this, you're in luck – because I created a tutorial for some blogger friends and decided to post it here too.  Click HERE for the PDF (addblogasfbtab.pdf), and you can also find it on my new Tips and Tricks Page.  (keep an eye on that page, I hope to add to it soon!)
=-=-=-=-=-=-=-=-=-=-=-=-=-=-=-=-=-=-=-=-=-=-=-=-=-=-=-=-
Tressie Davis is a portrait photographer located in Chelsea, MI. Portrait work may be viewed at www.tressiedavis.com.