What's the worst thing that can happen to an umpire after a game? His guide dog bites him.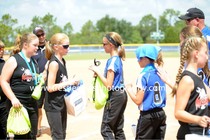 Sunday, July 29, 2012, Finesse 10u faced off against the Palmetto Wildfire from South Carolina. In keeping with World Series tradition, the teams exchanged gifts, and then the game began.

With the Wildfire pitcher throwing balls at 55 mph, the Finesse girls had their work cut out for them. The heat was brutal, wearing everyone down and within a couple of innings Finesse had pulled two girls from the field for their safety.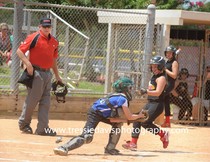 The highlights of the game were primarily the gasps and groans from the stands as the officials made one questionable (bad) call after another. While everyone tried to maintain their sportsman-like behavior, it was tough to watch. I thought only horses slept standing up? She's out, I mean safe, I mean out, wait…what did I say?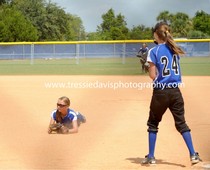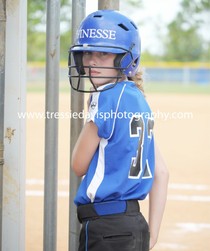 Ok, all joking aside, it was a tough loss for Finesse 10u. First order of business after the game was scheduling a 2 hour practice for the girls on their day "off" to get the softball back into the players. They also received a talk on the importance of hydration – we do not want to lose anymore girls during the games due to the heat.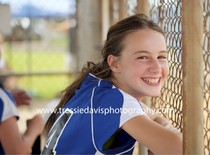 Back to the condos for some R & R, then a team dinner where everyone brought different ingredients for Taco Night. We had two birthdays to celebrate, so cupcakes and singing were on the dessert menu.  A very special Happy Birthday to Stan the Stat Man!!
To cap off the evening, swimming for the girls, and poker night for the adults.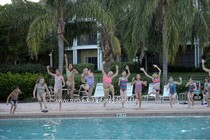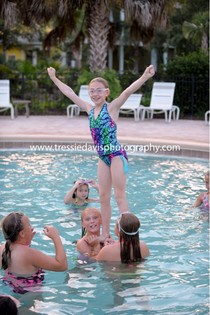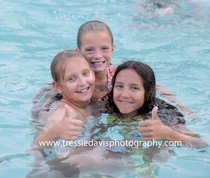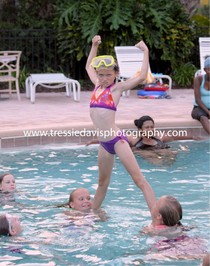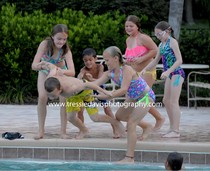 Tressie Davis is a portrait photographer located in Chelsea, MI. Portrait work may be viewed at www.tressiedavis.com.